Hey everyone! First of all….
*wait..wait.. let's add some spice to the intro*
"Yeh WP hai" "Yeh Main Hoon" aur yah khatarnak collab hone wala hai" (insert 50 rupe kaat overacting ka gif)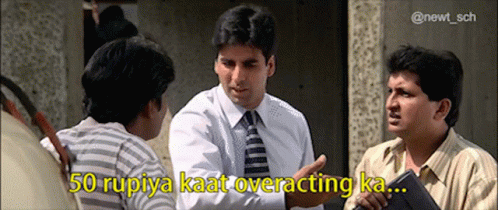 Hey everyone! First of all a very happy Holi to all of you…I hope you did not eat too much of sweets and stole a child's watergun cause yours broke 🤣…It's a very special post today, as this post has four authors. We have the wonderful owner aka runner aka founder of this blog who is very beautiful and smart—–Poorwa! and The very weird, crazy and funny blogger who is none other than Ananya @ Drawing My Fantasies and A person who is a fan of both Taylor Swift and Alan Walker..you guessed right it's Swift Walker @ Just Dreamland and the last but not the least, a girl who writes sooo sweeeeet poem..again you got me it's Anushka @ Anushka Stories….So we four gathered and decided to do something weird and…. to give our TIPPANI (comments) on Holi….
Poorwa: Thanks for the fabulous intro Ananya! So guys as I promised you tomorrow, here is the HOLI SPECIAL post (I know we surprised you😁)! For my foreign readers who might be a little confused- Holi is a wonderful and a 'be crazy', festival of colors, celebrated in India every year. You'll get much more information about the festival when you'll continue reading 😉 In this post I, Anushka, Pannaga, and Ananya will share the things we like and dislike about Holi aka Pros and Cons of Holi, so without waiting a second let's get started….
Usually people start with Pros but let us start with Cons 😂😁
Ananya: Con #1—When you play Holi with your friends you play that WILD Holi in which you don't see the condition of the person and just colour his/her face and say "bura na maano Holi hai (don't mind, it's Holi)" Do you know how much it pains inside!!!
In class #5 My friends applied so much colour on my face that my face was totally pink and the best part—I had my exam the next day!!! I had to rub my face with scrubber to remove that colour but still….the colour did not fade and I became the MEME OF THE DAY
Anushka: You said the very right point. It's so annoying to do that.
Con #2— I don't like when my friends don't come to play and when they say "I HATE HOLI!!"
Poorwa: Ah really? They hate Holi?
Anushka: Some say that we hate colors and all.
Poorwa: And it's the opposite in my case. I never get a chance to play Holi with my friends because they live too far. And it's risky to play at school you know😁
Anushka: That's terrible!
Pannaga: Sorry guys, I was late.
Con #3— Colors- chemical right!? Bad for health and if you're a single child, and you have no friends in your neighborhood, like me, whom will you play with? And your dress will be spoilt.
Ananya: Yes👍! I would love to!
Pannaga: 🤣What would you love to? Holi time Exam time! What if we eat the colors by mistake? Will we die? Problem Problem Problem!
Ananya: Sorry guys the message which was sent by my account was actually sent by my sister 😅…I am really sorry…Behena your points are valid!! But I don't think colors will kill 🤣🤣….
Poorwa: Ah no problem! It was funny 😂
Pannaga: 🤣It's ok! Yeah, I know they don't kill, that was just me being me (I'm overdramatic sometimes) but isn't it kinda gross to eat the colors?
Anushka: It certainly is! Did we come with some conclusion? Or just messing around 😅😅😅😂
Pannaga: I don't know 😁😁
Anushka: Our talks will never stop!
Pannaga: Haha I know! I have never played Holi, ok? so I don't know much.
Poorwa: It's okay! Let's continue…
Con #4— Holi is a festival of human beings, so why bring animals in between and irritate them. I hate it when they bother animals, especially dogs with colors. It pains them so much.
Ananya: Haan haan true true!
Con #5— Relatives…..On the day of Holi, you will receive many many many phone calls from your very very distant relatives whom you don't even recognize or met 10 years back.
Anushka: I don't know, I have no ideas.
Ananya: Typical Conversation With Relatives:
You: Namaste! Happy Holi! Relative: Happy Holi dear, so what plans do you have for today? You: (in mind: ah really? Will we burst firecrackers on Holi?) Nothing much, we'll just play Holi. Relative: Hm recognized me? You: No.. Relative: Dear, I was there on your name ceremony to enjoy the party. You: Oh.. Relative: So, ate sweets? You: Yes yes! Relative: And.. all well? You: Yeah all good. *5 seconds of silence* Relative: Where's your Mom dear? You: Mummyyy…
(Someone give me an applause to translate this conversation in English. The real one in Hindi by Ananya was enough to make me go crazy laughing 🤣)
Poorwa: 😂Is it really the same with all of us? I thought you're reading my mind.
Ananya: Lol it's the same with everyone 🤣🤣
A few more Cons we would like to add…
(By Pannaga-) When you play with water guns, your shirt will stick to your body and it's hella annoying.
It'll be bad if the color water or the powder goes into your nose or your ears.
Pollution…it causes pollution.
Bad for health!!!!! Not that we care.
It dirties the road!!!!!!!
(By Poorwa-) Yep, pollution is really bad and it increases so much on Holi.
Some people play pranks on the streets which is harmful. Little pranks are valid on Holi but they shouldn't harm others.
(By Anushka-) When my friends don't come down and when they say they hate Holi.
When my enemy complains to my Mom! That we troubled her.
Anushka: Loved it 😂 !
Ananya: #7 Waah!!!!What a point!!!!! So true!! And loved the #1 one😂
Pannaga: I know 😎😂
Poorwa: Haha, loved yours too. Nice points Anu😁
Anushka: Thanks!
Now let's take a look at the Pros…
Ananya: Pro #1— You are able to take revenge from your enemies…You can color the whole face of the person who always used to steal your favorite food Just color the person with black and say: Bura na maano Holi hai!!!!!!!
Poorwa: Haha nice one 😂
Pro #2— It's one of the days in the year when we laugh the most… Holi is the day when we don't get tired even after running around with colors for the whole day. It's such a great feeling which I love!
Ananya: That's a good one!!!Loved it!!
Pannaga: Now it's my turn…
Pro #3— It's because of Holi we are collaborating now. And it's the one time when parents don't scold if we get dirty.
Poorwa: It was the best one 😁
Anushka: Now my pros…
Pro #4— When you spend time with family and friends. And no one can stop u to eat gujhiya!!!
Pro #5— Colors of course! They make the day much more joyful and beautiful!
Poorwa: Fantastic ones, how can we forget sweets, especially gujhiya!
A few more Prons we would like to add…
(By Pannaga-) Holi makes life more colorful!
Chhota Bheem created an awesome Holi episode.
We get to enjoy like hell when it's Holi.
(By Anushka-) When we burst water balloons on my enemies
When our enemies are covered in black color and start crying 😂😂😂🤣
No rules and regulations by Mom and Dad! It's a fun day!
Ananya: Chhota Bheem created an awesome Holi episode 😂😂😂😂…lol….. very good point Behena. Your points are so OP 🔥
Poorwa: Woah it was awesome!
This love story is really special and unique cause it's no the love-story where chunari flies and lands on the hero's face but colors which fly and land on our face…Once again wishing you all a very happy and safe Holi…. Don't eat much sweets or else you will get diabetes and don't waste much water.I know you will still do these things cause:
What are your plans for Holi? Listening to Bhojpuri Holi anthems? Let us know in the comments…
We really hope you liked our post and had fun. Also to my foreign readers, thanks for reading, we hope you found this post and Holi itself exciting! Let us know your views on Holi in the comments below! And please don't splash colors on animals, especially on dogs, and play a safe, sweet, and happy Holi! And I'm sure you liked the four of us coming together but still, I want you to share your views on our Collab! Happy Holi!!!
Sooooo, that's it guys and gals!!!! Hope you had a fabulous, mind-blowing, amazing, sensational, splendid, marvelous, cracking, dynamic, crackerjack, **insert all the synonyms**…Holi. And I really hope you enjoyed this awesome collab by the 4 most awesome bloggers in the blogosphere. After all, we worked day and night for this. Our hard work can never beat anyone else's. And we should be really really appreciated because we were working for this post instead of getting colored. Conceited much? Yeah, we are 😛 It should be expected, especially when Pannaga the bragger is there. Anyways, enough reading. Go go go! Go get colored!
HAPPY HOLI!!!